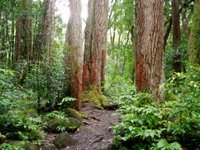 There is truly nothing random about life. We are on a journey: on the path of God's choosing, yet subjected to the limitations of time and circumstances. Fulfillment of this journey lies in Christ alone. He is the author and finisher of not only our faith, but of our life circumstances. He works in and through our lives, defining who we are and who we can become. God is greater than our heart. He surpasses our ability to think, to make decisions, to breathe.
When I am tempted to question the path– when I want answers I know I can't have or when I simply can't breathe, God remains authentic—real—enough. It seems so simple, but it isn't always easy to live. I wish I could say that I live as if I believe this every day. I don't. I am riddled with questions, doubts and even times where I think I won't be whole again—but through my limited vision, I know that God has chosen this path for me and not only can see how the journey ends, he doesn't allow me to walk it alone.
This I know for sure.